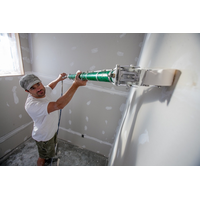 (All images courtesy Mark Gallup)
In business and in life,

luck favours the well-prepared.
Darren Hatina, owner of D's Drywall in Fernie, was looking to grow his business in a unique direction in 2014. Instead of luck, he found KRIC.
"Joining KRIC has been fantastic," Hatina said.
He began by attending a KRIC's Business and Beer networking event (co-hosted by the Fernie Chamber of Commerce) in late 2014. Then he and some of his staff attended two KRIC workshops—Intro to Lean Thinking and Integrating Technology—in early 2015. Finally, Hatina signed on for the Venture Acceleration Program (VAP) this spring, making his KRIC-ification complete.
Hatina was already quite well-prepared before he sought help from KRIC.
Running his business, D's Drywall, since 2006 had given him experience serving clients, primarily general contractors.
His education in mechanical engineering gave him insight into building technologies, his work experience in a Toyota plant as a 'rivethead' showed him Lean culture in action, and his training in Permaculture informed his commitment to green building and sustainability.
"D's Drywall was initially myself which, over the last eight years, has steadily grown to a staff of between eight and 10 people," Hatina said. "The transition from me alone to me relying on a trained crew—wearing a manager's hat—was a big adjustment. That's what spawned my involvement with KRIC."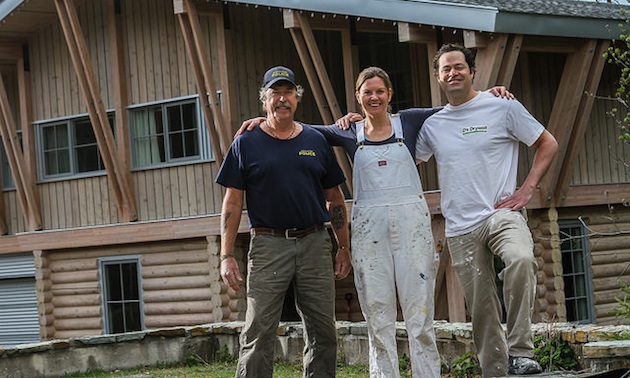 KRIC helps expand the toolkit, brings rapid benefits
Joining KRIC has been 'tremendously beneficial'—as D's Drywall has already implemented various cloud-based productivity tools discussed in the workshops. (Digital Takeoff, Google Drive, Quick Books Online, LeanKit and others.)
Other advances of late include fleshing out a solid Value Proposition and sketching out a Business Model Canvas, both with the help of KRIC's Executive-in-Residence, Beth Gallup. Gallup meets with Hatina and other East Kootenay VAP clients regularly. The goal is explore the potential and pitfalls of various innovative business models.
"The Business Model Canvas is a picture," Gallup explained. "Like the cliché, it's worth a thousand words.
"At a glance you see the gaps in your plan, as well as the strengths of your innovation."
So, where does Hatina hope to go with his business?
"My new focus is to implement productivity improvements, to focus on management, to apply my manufacturing background to construction, and to collaborate with other businesses to apply these practices—all in the name of creating value for our customers," Hatina said.
Partnership framework allows for a team approach
Hatina is working with other contractors—Jenny Mitchell of White Ladder Painting and Dan Moberg of Kootenay Insulation Systems—to form a collaborative venture, in its beginning phase.
Working together, these 'building envelope' sub-trades offer clients something unique: A team approach. Everyone is empowered to streamline workflows, and seek and destroy waste on the job through a process of 'continuous improvement'—a Lean thinking standard.
"We're having great success already," Hatina said. "Just with basic things, like handing out pads of sticky notes to staff. If they see any form of waste or have any frustration on the job, they write it down and put it on the wall."
Once a week, the whole group meets to review, prioritize, and work together to figure out ways to continuously improve. "By making it a part of our culture, and a priority, the benefits quickly add up."
"We're starting to standardize our processes, breaking them down into small bits," Hatina said. "We're using flow carts, visual tools and written-up standards so we can consistently perform quality work."
The venture's ultimate success, as defined by Hatina, is simple but strong.
Stoked staff, happy clients

, clear vision
"My vision is to create a construction contracting company, through collaborative partnerships, that will provide an integrated service of insulation, drywall, and paint," Hatina said. "I want staff to be stoked to come to work, and I want to offer clients undeniable value, so much so they happily pay deposits in advance."
From delivering just drywall to delivering integrated building envelopes in an innovative way, Hatina is on the right track.
And luck had very little to do with it.
---